1-04-14
Legit Tees for $10.00 Bucks, This Weekend Only!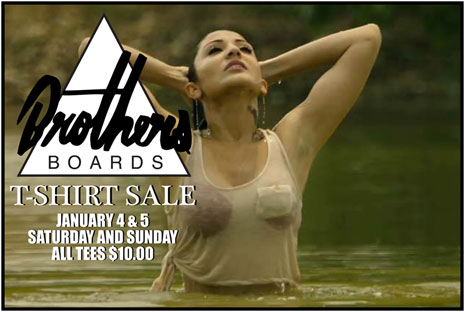 12-24-13
Happy Holidays Everyone!!!!!


Brothers "Established" Tee Heather, "Our State" Hood Black


12-3-13
Thrasher Hood Navy & Fourstar Sherpa Lined Octin Hood


Lakai Vincent Black Black


Lakai Marc Johnson Navy Gum


Lakai Howard Desert Boot Black Gum

11-25-13
Think about who and what you want to support this Holiday.


11-19-13
Fourstar Coaches Pullover and Pocket Pirate Zip


11-13-13
Weekend Sale! Click to Enlarge


10-5-13
Lakai X Fourstar Howard Desert Boot Phantom Suede


9-17-13
Lakai Manchester Select Black Mint


9-6-13
Fourstar League Hood and Nixa Button Up


8-14-13 Block Heads Art Show W/ Garrett Moore and Whitney Wells


8-8-13
HUF Ramondetta Black and Red Suede (Purchase Online)


8-2-13
Lakai Vincent Alvarez Black


7-30-13
Lakai X Baker Griffin Riley Hawk


7-11-13
The Quiet Life Cleon Pack Five Panel (purchase online)


6-22-13
Lakai Carlo Navy Suede

6-13-13
Chocolate Evan Hecox S/S Garage, Fourstar O'Neill S/S Button Up


6-13-13
HUF Pepper Pro Royal White (purchase on-line)


6-6-13
HUF Southern Black Charcoal Suede


5-16-13
Lakai Linden White Maroon Suede


5-14-13
HUF Choice Castle Rock Tan


HUF Pepper Pro Black Forest Green


5-3-13
Lakai Howard Red Suede


4-24-13
The Denver Shop X 303 Boards Presents Cliche "Bon Voyage"


4-13-13
Lakai Manchester Lemon Canvas


HUF Pepper Pro Burgundy


HUF Pepper Pro Navy

4-11-13
"Support" Shop Deck and Cruiser (purchase online)

3-22-13
HUF Choice Navy Sand (purchase online)


Lakai Marc Johnson X KOTR Thrasher


HUF Mateo Plantlife (purchase online)

3-14-13
Lakai Griffin Green Blue Suede


HUF Pepper Pro Black White


HUF Choice Black White


3-4-13
FourStar Spring 2013 Mike Carroll L/S Button & Shane O'neill Zip Hood


Supra Jim Greco "Hammer" Black

2-25-13
The Denver Shop "Mile High" and "Our State" T-Shirts (Purchase Online)


2-23-13
DVS Torey 2 Grey Suede


DVS Daewon 12'er Almost Instashoe


2-4-13
Lakai Howard Black Suede


Lakai Pico Black Blue Suede


1-22-13
The Quiet Life AU Natural Pack Release Friday, (Purchase Online)


1-4-13
Supra Lizard King "Passion" Brown (available for online purchase)


Supra Amigo Blue (available for online purchase)


12-28-12
End of the Season Sale!!!!!!!!!


12-17-12
The Denver Shop "Our State" Hood and Tee


12-06-12
Thrasher X Spitfire Hood and Tees



12-05-12
William Has done it again.....


11-20-12
Holiday Sale Season...Support Local This Year!!!


11-20-12
Lakai Pretty Sweet Manchester Select


11-19-12
HUF Geniune X Krooked Cromer


HUF Choice X Skate Mental Plunkett


10-24-12
Quiet Life Aloha Pack Release This Friday 12:00pm


10-10-12
Skate Mental In-Store Autograph Signing Saturday @ The Aurora Shop!


HUF Southern Ox Blood Tan


HUF 1984 Gray



10-4-12
HUF X High Times Pack


09-28-12
Real Skateboards X Odd Future


09-28-12
Check out Nate and the other Blvd ams in "Amburger"


09-22-12
TieDie Denver/Aurora Shop Decks


09-18-12
Supra Stevie Williams Black White


09-07-12
Foustar Brian Anderson Rugby & Brian Anderson L/S Flannel


08-17-12
Lakai "MARC" Marc Johnson Black White


08-12-12
We Got You Covered For Back To School


08-08-12
HUF Choice Black Brown


HUF 1 VULC Red


Lakai Mariano Black Suede


Lakai Carlo Red Suede


08-06-12
Quiet Life Fall 2012


08-05-12
HUF Stoops Pack


07-16-12
Lakai Guy Mariano Royal Blue Suede


07-3-12
Krooked in-store signing Sunday, July 8th, 1pm (click to enlarge).


06-25-12
Just in case your stupid enough to go out in this heat....


06-12-12
-DC CHRIS COLE LITE S BLACK/WHITE/GUM-


-CONS KENNY ANDERSON BLACK VARSITY/RED-


-CONS PAPPALARDO OX CHARCOAL-


06-08-12
-HUF 1 VULC GRAY/WHITE-


-HUF GENUINE SALT WASHED NAVY-


05-10-12
-Grand Opening Of Our 2nd Location This Saturday (click image to enlarge).


05-8-12
-Cons Pappalardo Wheat Black-


05-8-12
-Cons CTS OX Dress Blue-


05-3-12
-Emerica Westgate "The Flick" Black Gold-


03-20-12
-Supra SkyTop 111 Gray White-


03-20-12
-HUF "Choice" Cream Steel Gray-


03-15-12
-DVS Torey Pudwill 2 X Plan-B-


03-6-12
-Huf 1 Vulc Desert Gray-


03-5-12
-ES Mike "Manderson" Anderson Navy Gray-


02-27-12
-Fourstar (Koston) Robinson Blue & (Oneill) Molitar Rosin-


-Fourstar (Carroll) Knight Heather & (Malto) Jeter Teal-


02-24-12
-ES Mike "Manderson" Anderson Black White-


02-16-12
-Lakai Carlo Black Gray Suede-


-Lakai Brea Black Suede-


02-6-12
-Supra Stakes Brown Suede-


-Supra Stakes Black White-


01-23-12
-HUF Choice Black Sand Red-


-HUF Genuine Black-


01-17-12
-ES Edgar Black Gum-


-Emerica Brandon Westgate Ox Blood-


01-06-12
-Girl/Chocolate signing Monday January 9th, 6pm(click to enlarge image!)-


12-22-11
-Thursday, December 29th, The Mayan Theater (click image for more info)-


11-23-11
-Support Local!-


10-21-11
-Emerica Jerry Hsu 2 Low X Enjoi-


10-18-11
-Supra Cuban Black Suede-


10-13-11
-Skate Plaza Grand Opening and Denver Shop Demo (Click Image to Enlarge)-


9-29-11
-Huf Choice Black Pack-


9-15-11
-Fourstar Britton Hoody in Black...Classic Gonz Thrasher Cover on Back!-


-Fourstar Jennings Jacket in Blue & The Colorado Jacket in Black-


9-13-11
-IPATH In Store Autograph Signing Wed. September 14th 5PM - 6PM


8-19-11
-Back to School Sale! Saturday August 20th, Open to Close-


8-18-11
-Brixton "Detroit" and The "Coil"-


Fourstar "Crowley" and The "Arnold" Light Weight Hoody-


8-15-11
-Fourstar Sequoia Button Up and Hogan S/S Button up-


-Krooked Back to School Flannel and HUF Script Pocket Tee-


7-30-11
-Lakai Vinchester XLK-


-Lakai Pico Grey Orange-



7-26-11
-First-Ever Run of The Denver Shop Hats, Two Colors on Snapbacks-


-ES Bobby Worrest "Edgar" Dark Grey White-


-ES Square Two Fushion Black White-


7-20-11
-Cons Sea Star Charcoal Red-


-Cons CVO OX Navy Red White-


7-9-11
-DC Teak Black White-


6-12-11
-Emerica Wino Dark Navy-


-Emerica Jerry Hsu Low Navy Suede-


6-8-11
-Matix Welder Chino Pant Sand and Black-


5-16-11
-Cons CTS OX Black Red-


-ES Holbrook Lo Navy White Suede-


-ES Square Two Fusion eSuede Black Gum-


5-10-11
-Lakai Pico White Suede Spike Jonze Colorway-


5-2-11
-Cons Pappalardo OX Black-


-Cons CTS Mid Black Red-


4-13-11
-Lakai Marc Johnson Echelon Black White-


4-8-2011
-Real "Since Day One" Video Premeir Monday April 11th-


4-5-2011
-DVS Original Intent Andrew Brophy Black White-


3-27-2011
-Emerica Westgate Navy Black-


-Es Keswick Black White-


3-23-2011
-Lakai Carroll 5 Black White-


-Lakai Judo Navy Red-


-Ipath Reed Mid Rasta Hemp-


3-15-2011
-Fourstar Woodford Button up and Elko Light Hoodie-


3-14-2011
-The Denver Shop Tees, Destroyer Baseball and American Apparel Pocket-


3-11-2011
-Lakai Pico Navy Suede-


2-23-2011
-Elwood O.G. Jean Black Oil & Pappalardo Shuffler Chino-


2-18-2011
-Cons Pappalardo OX Black White-


-Cons CTS OX Black White Suede-


2-16-2011
-Emerica Bickle Jacket Black-


2-15-2011
-DVS Daewon 12'er Black Suede-


2-11-2011
-Lakai Guy Mariano XLK Black Suede-


1-24-2011
-Fourstar Fleetwood Flannel Red & Fourstar Rogers Hood Black-


1-21-2011
-Emerica Brandon Westgate Black-


-ES Bobby Worrest First Blood Mid Black White Red-


1-17-2010
-Matix Asher Borough-


12-04-2010
-Fourstar Winwood Flannel & The Altamont Slacker Pullover Flannel-


-Lakai Manchester Select Black Gum-


-Lakai Pico Brown Suede-


-Matix Quest Flannel & The Marc Johnson Signature Jettison Flannel-


11-15-2010
-Emerica Trenton Black Red White-


-Emerica G-Code Black Red-


11-10-2010
-Es Holbrook Lo Black White-


-Es Bobby Worrest First Blood Black-


11-4-2010
-Es Anchor Jacket Blue & Emerica Pittsburgh Jacket Black-


-Fourstar Dylan Grey & Waters Jacket Black-


-Emerica Romero2 Dark Grey Black-


-Emerica Reynolds Cruisers Black Silver-


-Emerica Herman G-Code Brown Gum-


10-26-2010
-DVS Torey Pudwill Grey Suede EERO Waterproof-


10-26-2010
-Emerica Wino Brown Gum-


10-25-2010
-The Denver Shop October Shop Deck Graphic (click to enlarge)-


10-18-2010
-Supra Dixon Grey Canvas-


10-12-2010
-Vox Drehobl Corpsey Black White-


-Vox Duece Black White-


-DC Dompierre Black White-


-DC Tonik Black White-


9-28-2010
-Lakai Pico Black/Black Suede-


-Lakai Belmont Black Leather-


-Es Bobby Worrest "First Blood" Gray-


9-02-2010
-The Denver Shop Labor Day Sale (click to enlarge image)-


8-31-2010
-Chocolate Taper Hood & Fourstar Thornton-


-Matix Marc Johnson Button-Up & Girl Branch Zip-Up hoody


8-27-2010
-Es Duran Brown Gum-


-Emerica Wino Slate-


-Emerica Wino Black Raw-


8-10-2010
-Supra Erik Ellington Avenger Black Nubuck-


-Supra Antwuan Dixon Black Blue-


8-10-2010
-ES Square Two Red White-


8-4-2010
-ES Bobby Worrest "First Blood" Purple White-


-ES La-Brea Black White-


7-30-2010
-Lakai Biebel 2LK Black White-


7-19-2010
-Transworld "Hallelujah" Premier Saturday July 24th, info 303-733-4035-


7-17-2010
-Emerica Jinx Black Red-


7-16-2010
-Es Square 2 Navy Grey White-


7-1-2010
-Es Square 2 Dark Grey White-


-Emerica G-Code Black Gum-


-Emerica Loe Romero 2 White-


-Emerica Laced Black White-


-Emerica Wino Burgundy-

6-28-2010
-Lakai Pico Blue White Suede-


6-23-2010
-Rvca Pocket Tee and Fourstar Board Shorts-


6-10-2010
-DVS Rico CT Black Gray Suede/Canvas-


6-4-2010
-Casey Bolding designed Denver Shop Deck-


-5-20-2010-
-Lakai Pico Black Red Suede-


-5-13-2010-
-Lakai Manchester Select SM2 Grey Suede.-


-5-7-2010-
-The Denver Shop May Slasher Sale......Get Down or Lay Down.-


-5-5-2010-
-The Denver Shop May Graphic.-


-4-27-2010-
-Andres Guzman Designed Denver Shop Baseball Tee.-


-4-23-2010-
-Etnies Mikey Taylor LS-


-Lakai Mike Mo Pro Model-


-Emerica Andrew Reynolds Classics-

-4-13-2010-
-Emerica Wino Black and Red-


-4-6-2010-
-Supra Antwuan Dixon Bone/Suede-


-3-26-2010-
-The Denver Shop American Apparel Pocket Tee-


-3-23-2010-
-Es Square One Krooked "RIP Van Wastell"-


-3-19-2010-
-Es "Theory" Justin Eldridge Black Red Grey-


-Supra "Bullet" Lizard King Pro Model Black Suede-


-3-16-2010-
-Lakai Biebel 2 LK Burgandy Suede-


-Etnies Portland Tyler Bledsoe Alien Workshop-


-3-12-2010-
-Es TXL 4 Black White........Can the cupsole make a comeback?-


-Emerica Reynolds Cruisers "The Goat"-


-2-25-2010-
-Lakai Pico Red Blue Suede-


-2-15-2010-
-Lakai Belmont Black Nubuck-


-2-2-2010-
-Etnies Sean Malto Black White-


-1-29-2010-
-Emerica Jinx Brown Blue-


-1-27-2010-
-RVCA Trip Out Hood and The Balance 4 Hood-


-1-15-2010-
-Emerica B. Herman G-Code Black White-


-1-8-2010-
-Lakai Manchester Select Orange-


-1-7-2010-
-Vans Keegan Sauder and Chris Pfanner Chuka Lows-


-Andres Guzman Denver Shop Deck-


PREVIOUS ARRIVALS-4

PREVIOUS ARRIVALS-3

PREVIOUS ARRIVALS-2